Head Coach: Christina Kouvousis
Christina played water polo for 8 years with various clubs, including the Coquitlam Sharks, Coquitlam Lions, Pacific Storm, and Team BC, eventually leading to an athletic scholarship for the NCAA Division I Spartan Women's Water Polo Team at San Jose State University. Christina is currently the Head Coach and Coach Coordinator for the Vancouver Vipers Water Polo Club. Outside of the pool, she has a UBC degree and currently works as a Kinesiologist.
Coaches:
Hendrick Fang – U16/U18
Hendrick has played water polo for 8 years; he started his career with the Vancouver Vipers and has played for Pacific Storm and Team BC. Currently, he is playing for the Queen's University varsity team while working towards an undergraduate degree in kinesiology. Hendrick has been a coach with the Vipers for the past 5 years, but only as a summer coach for the past 2 years. He is away on internship in London as of the moment, but will be back in mid July.
Edward Hoptioncann – U12/U14
Edward has played water polo since age 9. He trained competitively with the Spartans (LMWPL Advanced Program) travelling to compete in the National Competitive League (NCL). He is the founder of Team Vancouver for the High School Water Polo Tournament; the team won Gold in both 2017 and 2018. In addition, he is a competitively trained swimmer gaining BCSSA Provincial medals in both individual and relay events.
Sahil Khehra
Sahil played water polo for 7 years for his province and college in India. His favourite aspect of the sport is it's uniqueness and he believes in playing selflessly and with sportsmanship. He has been coaching for Vipers for 2 seasons.  
Isabelle Bennett – Minis
Isabelle, who played Vipers for 5 years, has been coaching our Mini's for the past season. She loves working with our younger athletes to ensure they feel comfortable in the water, improve their water polo skills, and have a ton of fun at practice playing games!
Assistant Coaches:
Nathaniel Leung
Nathaniel currently plays on our U16 team. He has been coaching our U12 team for the past season.
Juliette Whiteside
Juliette currently plays on our U16 team. She has been coaching our U12 team for the past season.
Thomas Neal – Goalie Coach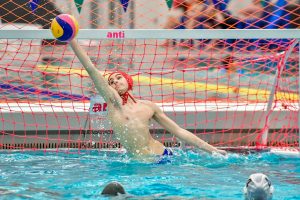 Thomas currently plays on our U18 team. He has been working with athletes who are interested in becoming goalies for the past season.
Junior Coaches:
Kate Lewis, Erik Makinen, Melia Tang and Pilar Williams
Our Junior Coaches are mentored by more experienced coaches with an eye to further developing their skills and knowledge. They mostly assist with our Mini Polo Program. They have also completed the Junior Coach Development Program offered by our club.